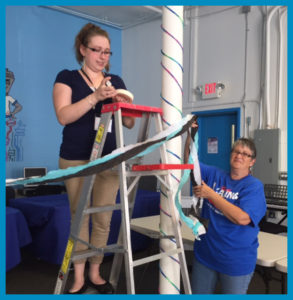 We are looking for fun, creative and enthusiastic volunteers who are passionate about helping adults with special needs reach their goals and maximize their full potential while enhancing their social inclusion and integration into the community. You can make a big difference in someone's life! You can be the key to lighting someone's spark!
Would you like to teach a class IN person or virtually? Are you available to participate in one of our planning committees? Would you like to help us at the Center and make sure all participants are having a quality experience when they visit us?
Areas of need include:
Assisting staff with day to day operations
Assisting with our 3-4 large scale fundraising events throughout the year
Coordinating weekly Friday night events
Photography of daily activities and during events
Teaching a life skills or other type of class
Work with our Marketing Specialist on a variety of projects
Helping out with various administrative tasks
Working on our IT systems and help with general technology issues
Serving on various committees including marketing, program planning, fundraising, and event planning
If this sounds interesting to you, please complete the Spark Volunteer Application-2021 (this link will take you to a download page). Email it it to us at: director@sparkcommunitycenter.org or mail it to us at: Spark! Community Center, 59 Hanover Street #4, Lebanon, NH 03766.
Please feel free to share this information packet with anyone that may be interested in getting involved at Spark!
Thank You!