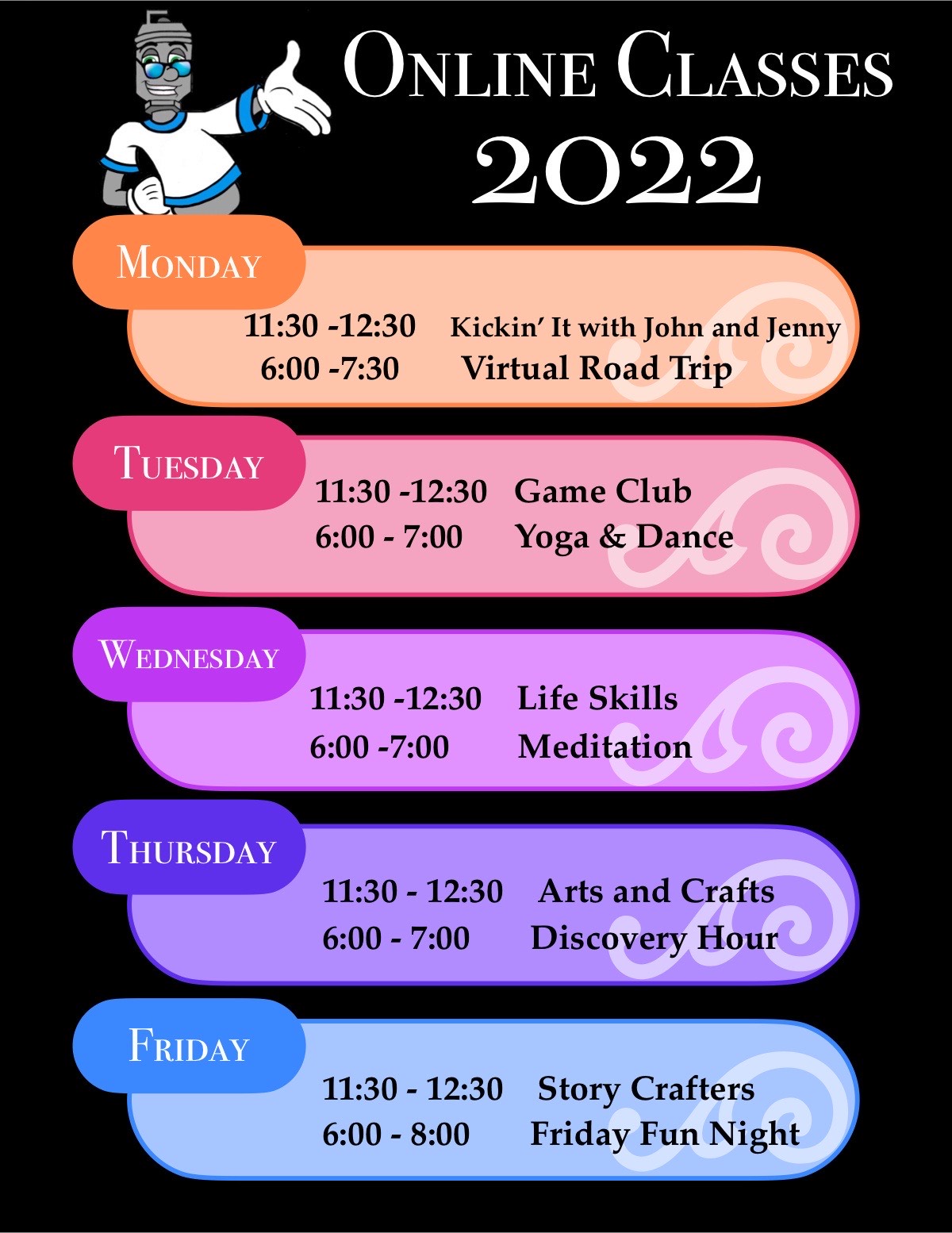 Online Classes for Spark! Community Center
Kickin' It with John and Jenny - 11:30 am Monday's via Zoom
Come chat and check in with John and Jenny. Share whatever you would like to. 
Virtual Road Trip with John - 6:00 pm Monday's via Zoom
Join us as we tour the great states of America!  Each week we learn about the history and state motto, symbols like the state flower, bird and mammal and more.  Then we tour fun, unique, and historic places through YouTube videos.
Game Day with John - 11:30 am Tuesday's via Zoom
Join your friends on Zoom as we play a variety of fun games like: Mad Libs, Pictionary, Trivia, and more!
Dance and Yoga with Jenny- 6:00 pm Tuesday's via Zoom
Come join in for a fun night of dance and light yoga every week. 
Life Skills with Jenny - 11:30 am Wednesday's via Zoom
Here is an opportunity to learn valuable skills that you can apply to everyday living. This month we will be doing a Hair and Makeup Tutorial, Basic Hygiene, How to apply for a job/prep for an interview, Ted talks, and basic homesteading. 
Mediation with Jenny - 6:00 pm Wednesday's via Zoom
Each week, we play a guided meditation video from the endless library of options on YouTube that encourage you to relax your muscles and clear your mind.
Arts & Crafts with Jenny - 11:30 am Thursday's via Zoom
Every week we use items around the house to create some art. Please come join us in this fun class. This month we will be doing cartoon drawings, Pet/set portraits, St. Patty's Day crafts, pipe cleaner flowers and clay sculpting. 
Discovery Hour with Jenny - 6:00 pm Thursday's via Zoom
In Discovery Hour, YOU decide what the class is about!  One participant mentioned a trampoline which sparked a search for the inventor and history of the trampoline and YouTube videos of extreme trampoline stunts.  Let's surf the web together.
Story Crafters with John - 11:30 am Friday's via Zoom
In Story Crafters we are writing an epic fantasy adventure that includes characters created by each of our participants.  Our hope is to self publish the story when it is complete and sell copies to raise money for Spark.
In Person Classes for Spark! Community Center
Arts Creation Station - Monday's at 2:00 pm at Spark! 
Arts Creation Station- Every Monday Spark has a fun creation for you to make at our drop-in location. This is a FREE workshop, we supply the materials and the in person instruction. You just bring your creative self! You get to leave with a fun, creative product after only an hour's worth of work! 
May 2 - Artsy Coffee Cups for Mother's Day
May 9 - SPARK! Flower Planting
May 16 - DIY Fairie Houses
may 23 - Summer Wall Mural at SPARK!
Movement & Music - Wednesday's at 2:30 pm at Spark! 
Come dance, and/or play an instrument, while we feel joy and happiness in our hearts.
No experience is needed. Beginners welcome. This is all about fun. Smiling, laughing, being silly, and feeling free.
Real Life Skills with SNAP - Friday's at 2:00pm at Spark! 
New to Spark! Is our curriculum based life skills course called SNAP (Specific Natural Activity Program) by John Meyers. The curriculum covers a variety of topics like Current Events, Shopping Skills, Media Literacy, Civics, Personal Safety. Communication and so much more! 
Spark! Players - Friday's at 4:00 pm at Spark! 
The Spark! Players are a performance group at SPARK! Community Center. Session will be used to build skills around pantomime, improv, character development and production/stage basics. Come and stretch your creative wings with us!  Currently working on Shel Silverstein Poetry and short scenes from Frazzled Fairy Tales! 
Friday Fun Night - 6:00 pm to 8:00 pm either in person or virtually depending on the week. In the future all will be in person. Each week is themed with the first Friday being Movie Night. Come join us every week to see your friends and have fun! 
Movie Night at Spark!
The first Friday of every month Spark! will feature a family friendly movie . These events are generously sponsored by the Couch Family Foundation. Stay tuned for what the movie of the month will be!
Musical Fun
Singing, karaoke, dancing, or just listen to your favorite tunes.  For more musical fun be sure to keep an eye on our Friday Fun Night events which often feature live music!
Gardening
Stop by Spark and help us maintain and tend our garden and plants and aquaponics tank. Check out our beautiful outside garden that all need regular maintenance, watering, and love. Ask the staff or volunteers on duty for more information and they will be happy to show you around.
Science
Check out our events calendar for Friday Fun Nights featuring science activities! Can't make it to our events? Feel free to ask the staff on duty to show you what we have and get you set up with a fun experiment!
Health and Fitness
Spark! offers a wide range of games and activities to help our participants get moving and feeling healthy. See other opportunities for some of our offerings. Come down to Spark and enjoy anything from dancing to basketball to Wii Bowling. Bring your friends! Also keep an eye out on our events calendar for Friday Fun Nights that incorporate health and fitness.
Environmental
Help the environment by getting involved with Spark's recycling program. You can also learn more about "being green" in our gardening program. Watch our events calendar for Friday Fun Night events featuring environmental activities.
Life Skills
Spark! offers a variety of opportunities to practice and learn skills needed in every day life. Every day we offer games, puzzles,  and more to participants. Just ask a volunteer or the staff member on duty.  Some of what we offer includes:
TV with Wii game consoles and variety of games
Books
Computer lab with Wifi and Printer
Air Hockey
Tons of Board Games, Movies, and Puzzles!